Last night, as a few of us not backing up Ray Davies in Philadelphia gathered for dinner in Hoboken, I spotted this holiday mispostrophe (ssp. dyspostrophe).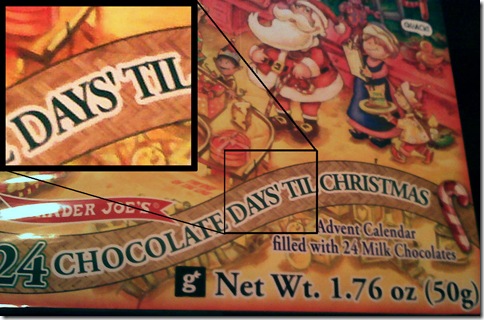 It probably wasn't intentional on Trader Joe's's part, but the mispostrophe distracted me from the numbers on the box — especially 24 and 50. But only briefly; the pressing question quickly loomed.
If 24 Milk Chocolates weigh 50 grams altogether, aren't they too small?
The appropriate comparison was obvious: M&M's®. Little did I suspect it would be something of a challenge to find out the true weight of one regular M&M.
Disregarding outliers like "I think it is about 15g; 15 grams is perhaps the answer," answers on the web (to the question of an M&M's weight) generally fell into two camps. There was a handful of a-bit-less-than-a-gram answers, like "There are about 500 Plain M&M's per pound," and there was also a handful of around-2-grams answers, like "After an experiment, of weighing M&M's, here were the results. 1) 2.208 g 2) 1.882 g 3) 1.904 g 4) 2.438 g."
After considerable "research," but no direct measurement, I'm swayed, not by any attestations of milligram precision, but by the preponderance of evidence [and 1] that one regular M&M weighs a bit less than a gram. Which conclusion is consistent with my personal experiences as a candy sorter (when I can find an uncluttered flat surface, which isn't very often).
From the web's many M&M Q&A (or should I say Q&"A"?) a few examples:
As for the pressing question, I'll cautiously answer it "No" and hope Toby and Theo agree. Two or three M&M's-worth of chocolate every day for most of a month — for those endless days, those sacred days, believe me — is not so bad. Despite anyone's opinion that one serving of M&Ms comprises 208 grams (and 1023 calories).