20 Apr 2010 10:44
Today's new word is mispostrophe.
mis·pos·tro·phe / mɪs ˈpɒs trə fi /
noun
Mispostrophe refers to the misuse of punctuation, specifically of the apostrophe ('). Mispostrophe can refer to a spurious apostrophe, a word containing a spurious apostrophe, or the incorrect usage of the apostrophe. The fourth word of this sentence contains a mispostrophe: "The town's recent immigrant's voted overwhelmingly against the lottery, yet the will of the manier natives prevailed."; "He entered the MENS restroom without even noticing the sign's mispostrophe."
Origin:
2010: intentional coinage by Steve Kass (http://www.stevekass.com).
Related forms:
mispostrophecate, mispostrophecation
anapostrophe: Mispostrophe of missing apostrophe. ("Dont smoke here.")
dyspostrophe: Mispostrophe of misplaced apostrophe. ("Wer'e closed Mondays.")
surpostrophe: Mispostrophe of spurious apostrophe. ("Apple's on sale.")
Inspired by Jonathan Coulton, who tweeted this confectionery mispostrophe.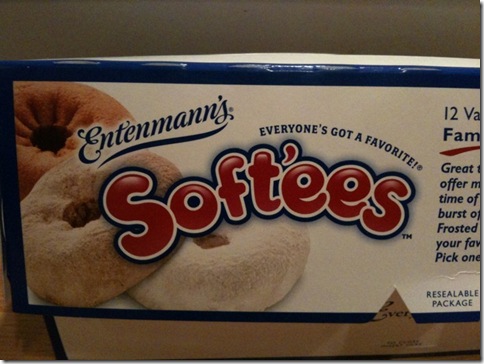 3 Responses to "Todays new word: Mispostrophe"
Andrew Willett Says:
April 20th, 2010 at 11:29 am

Right. Sometimes I feel like painting the following in very large letters across, I dunno, the moon:

DEAR EVERYONE: THE APOSTROPHE IS NOT THE UNIVERSAL SYMBOL FOR "HEY LOOK HERE COMES THE LETTER S." PLEASE ADJUST YOUR PRACTICES ACCORDINGLY. DO NOT MAKE ME COME OVER THERE.

Although that wouldn't do anything about Soft'ees. As I suggested to JoCo, maybe they're using it to indicate a glottal stop? Not that it would make any sort of linguistic sense. But you can see two properly executed apostrophes on the box right there in the picture — so what the hell is their excuse?

Steve Says:
April 20th, 2010 at 12:03 pm

They have no excuse. In fact, they registered "Enten-Mini's" (http://entenmanns.bimbobakeriesusa.com/op-cat.cfm/catId/12) as a trademark with the United States Patent and Trademark Office. (Direct link not possible; search http://tess2.uspto.gov/bin/gate.exe?f=searchss&state=4006:33ddbq.1.1 for the serial number 76654844).

There's no USPTO registration for "Sof'tees," however, so maybe Entenmann's has some modicum of shame.

Steve Kass » Looming Chocolate Says:
November 29th, 2010 at 12:52 am

[…] us not backing up Ray Davies in Philadelphia gathered for dinner in Hoboken, I spotted this holiday mispostrophe (ssp. […]
Leave a Reply