12 Feb 2010 0:19
Want my attention? Misspell something. Better yet, point out a misspelling with "[sic]." Even better, sicize an invasive misspelling.
Barry Petchesky sicized "miniscule" in a recent and alsowise fine Deadspin article on Paul Shirley's Haiti fumble. Despite the fact that—as Barry put it—"Deadspin has long been [the] go-to source for professional athlete penis," and despite the fact that Barry was on Jeopardy! last year, somehow I didn't know Deadspin from Adam or Barry from Steve. I'm glad Barry captured my attention, and I'm happily spending this evening with him at home. Thanks, Barry!
---
Today's word is
sicize
.
sic·ize, sic·ise / ˈsɪ saɪz/, / ˈsɪ kaɪz/ (or sick·ize, sick·ise / ˈsɪ kaɪz/)

transitive verb
to indicate that something is a verbatim quote by using the word "sic";
Some British journalists sicize American usage; some do not.

Origin:

2010: intentional coinage by Steve Kass (
http://www.stevekass.com
), influenced by the words
parenthesize
,
laicize
, and
sicked (past tense of sic)
. 
Related forms:
sicization: the act of sicizing
sicizy: / ˈsɪ sɪ zi/ a rhetorical device, specifically, the use of sicization in order to deprecate or ridicule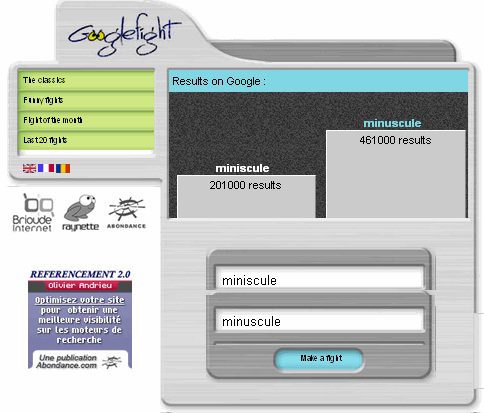 I hope you'll join me next week, when the word of the day will be intertelligible.
One Response to "Word of the Day: Sicize"
Steve Says:
October 2nd, 2010 at 11:59 pm

In February, 2010, when this first appeared, the Googlefight results were: miniscule 201000, minuscule 461000. Things have gotten worse:
Leave a Reply