23 Jun 2010 12:55
Thanks to Edward Tufte, millions of people have seen Charles Minard's remarkable chart of the French Army's losses during its Russian campaign in the winter of 1812-13. Minard's chart is a joy to behold. It's the acme of data presentation — magnificent, spectacular, inspiring. So it kills me that Gene Zelazny, who wrote the you-know-from-the-title-it's-bad book "Say it with Charts" FUCKING SHAT ALL OVER MINARD'S LEGACY.
I learned about Zelazny's desecration here, though Andrew Abela, who reported it, failed to call it that. "Zelazny notes that the graphic is difficult to read, and proposes that there might be better ways to convey the same information."
Sure, there might be, just like there might be better ways to decorate the ceiling of the Sistine Chapel, but what Zelazny offers is an epic numerical fail, because IT NOT ONLY DEPICTS DIFFERENT (AS IN WRONG) INFORMATION, IT ALSO DEPICTS THE WRONG INFORMATION BADLY (as in we can't even tell what wrong numbers he wants us to find and what they are supposed to quantify).
Zelazny might as well propose that "there might be better ways to clean up the Gulf of Mexico," trot out a broken doorknob and a bent bicycle tire, and ask us to wonder with him. Ugh, ugh, ugh. And ugh.
Here are a few of the gory details (of which there can be but few, given how little actual stuff there is in Zelazny's chart).

Ok, so the spirit levels in the cutesy clipart thermometers don't match the numbers, only their absolute values (sort of).  But the numbers are wrong, too. Five of Zelazny's six data points are wrong — misread from Minard's original. Five out of six. That's almost all wrong, for those of you who aren't counting. Badly, differently, and horrifyingly wrong.
Minard reports that there was rain on October 24, and that the temperature was about zero*. Zelazny misread the day of the month (24) as a temperature, then used the only other written figure at that spot on Minard's chart (8bre, for octobre) for both the month and the day. No explanation short of "Who gives a fuck?" works for this slop.
*Minard's figures give the Réaumur scale temperature, which detail Minard, lest future readers misconstrue his chart, tells us. Minard cared deeply about communicating. (Zelazny's figures are wrong in every known temperature scale. He cares less. Much less, like not at all.)
Remarkably or not, almost nothing is correct in Zelazny's "presentation." The border between Poland and Russia is misplaced, and all the graphical scales are wrong. I'm no PowerPoint guru, but I assume you have to work very hard to incorporate numbers into a slide this wrongly (as was famously done here, and better).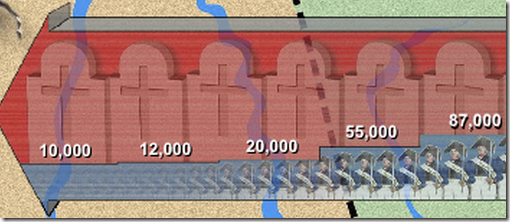 Even Zelazny's title is wrong.

Things got bad on the retreat from Moscow. And it's not clear how many died. Minard charted the number of troops, not deaths. Some who didn't return were captured. Others may have deserted. And the overall message isn't "the colder … the more." The biggest declines were early in the campaign, when the temperatures aren't given. So the title is all wrong, but hell, IT FIT ON TWO LINES. Shit like this matters. It's our planet's fucking history.
Sure, Minard's correct title (Carte figurative des pertes successives en hommes de l' Armée Française…, and penned more beautifully than any web typography can be rendered) won't work projected at WXGA resolution or on your favorite eReader or phone.
THIS IS WHY WE PRINT STUFF ON PAPER. If you don't have a copy of Minard's chart, buy yourself one. Fuck, if you're one of the first five people to ask me, I'll buy you one.
Now turn off your computer and pick up a beautiful book. Or go to the library. Or write. On paper. Thanks for listening.
One Response to "Let Charles Minard Rest in Peace"
Alex Kerin Says:
June 24th, 2010 at 12:31 pm

Steve, you have encapsulated my thoughts in a way that I cannot express on my company blog. There was consternation a while back because I used the word 'wanker' in a post.

Good job. And, what's with the 3D pie charts on the front of Zelazny's books? Say it with charts? Remind me not to hire McKinsey.
Leave a Reply