11 Sep 2011 14:41
Ten years have passed since 9/11. The New York Times put the passage of time into days, and hours, and minutes, and seconds in today's paper. [A Day That Stands Alone]
Three-thousand six-hundred fifty-two days have now passed. At 8:46 a.m. — the time when the first plane slammed into the north tower of the World Trade Center — 87,648 hours had gone by. Another [*]  5,258,880 minutes. Another [†] 315,532,800 seconds.
For the record, 315,532,802 seconds passed between 8:46 a.m. on September 11, 2001, and 8:46 a.m. today, September 11, 2011. The missing seconds were inserted into our collective timeline by the authority of the International Earth Rotation and Reference Systems Service. One of them passed (largely unnoticed, no doubt) at 6:59:60 p.m. on December 31, 2005 (in New York City), and the other occurred at the end of 2008.
As decades go, this one was as short as they come for us, even with its two leap seconds. Many decades include not two, but three occurrences of February 29th, and all decades beginning between 1972 and 1997 have contained more than two leap seconds in addition to the minimum‡ number of two leap year days per decade.
Nothing is simple.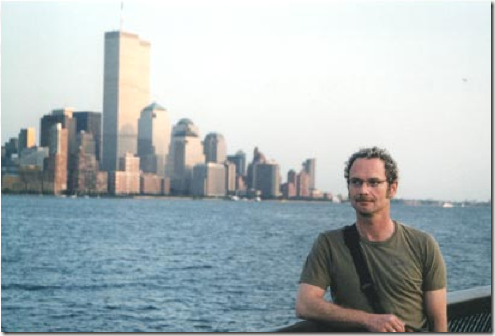 Steve on the Hoboken waterfront, September 1, 2011.
---
* Do not be distracted in search of the anaphor. It's missing, and the issue is not addressed here.
† Another Another is missing its anaphor. Press on, dear reader.
‡ The minimum during our lifetime. The last decade to contain only a single leap year (which was the leap year 1896) ended early in 1904, because 1900 was not a leap year, despite its divisibility by four. The next single-leap-year decade will not begin until the year 2096.
Leave a Reply