During the 13-year period (1995-2007) for which public data is available, 141 babies were born in Los Angeles County and named Unique. Two were boys.
A great many baby names were more unusual than Unique, including Z (boy, 2007), Q (boy, 2005), Abcde (girl, 2005), Awesome (boy, 2007), Yourhighness (girl, 2007), Queenelizabeth (girl, 2005), Unknown (boy, 2005), and Y (boy, 2007).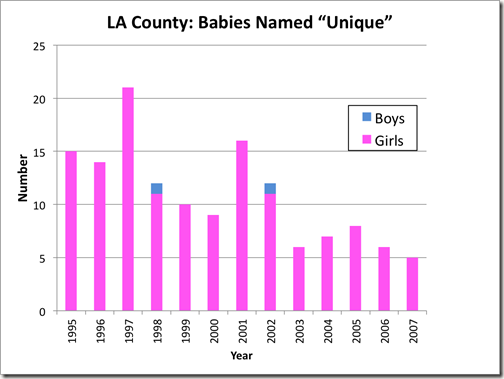 Data source: Los Angeles County Department of Public Health [link]
Update (May 5, 2012)
I updated this post last year when I discovered the Social Security Administration's baby-name database, but it turns out there was more there than I realized. In his Breakfast Experiment™ of this morning, Language Log's Mark Liberman mentioned this richer source of SSA name data.
As was the case for the SSA data I found last year (in the earlier update, which appears below), there's no data for baby names that are unique (or almost so). But in recent years, Unique is not unique, so there's more to report. The chart below summarizes the latest SSA data I have for Unique boys and girls.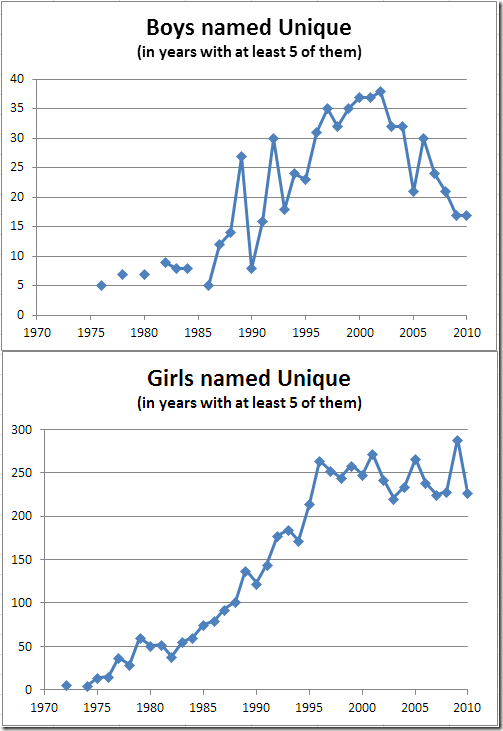 Update (June 24, 2011)
The Social Security Administration provides a basic query interface to its national baby-name database. Based on Social Security card applications for births that occurred in the United States, Unique was a common enough girl's name to make the annual top 1,000 list nine times between 1996 and 2009.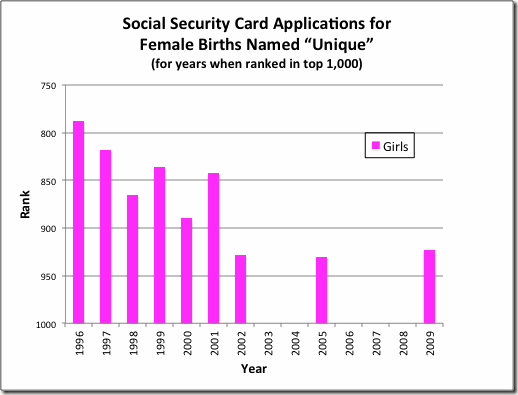 Both the Los Angeles and national figures suggest that as a baby name, Unique is becoming less common.