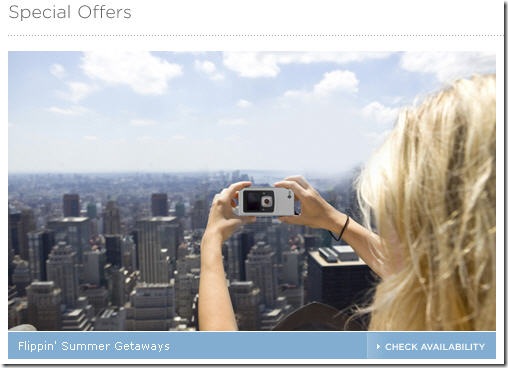 I did a double take when I read today's email from Affinia Hotels to find this image. Actually, two double takes — one because the page layout made me think I'd hit the landing page of a parked domain, the other because of the image. I puzzled for quite a while wondering what city skyline had those matching buildings. (I'm still not sure. Bostostoston, maybe?)
Wait, make that three double takes. Naturally, I zoomed in to look at the photoshopping more closely, and by golly there it was right there. The creepy Mars face, peeking out from behind the model's forearm. Look for yourself at the Affinia face and the Mars face, side-by-side, in unretouched (by me, except for the circle) crops, and I think you'll agree.
After getting over seeing the Mars face, I took the opportunity to see if Affinia was still playing fast and loose with its promo codes. Not like before, I'm pleased to report. They seem serious and honest about their "Our Best Rate Promise."
Nonetheless, it still bugs me that their "Best Available Rate," described here as being the Best Available Rate, is not the best available rate. The best available rate is the "Our Promise Rate." You have to scroll to find the Our Promise Rate, but it always shows up, whether or not you entered a promo code and whether or not you logged into the site.
Before you get too psyched about the free Flip camera, though, you should realize that the "Flippin' Summer Getaway" promo is probably not a deal. It's not dishonest, but it's not a deal. The details of the non-deal are: if you pay Affinia a high enough rate, then you get the same room you could have gotten for less (maybe a lot less), plus you get a Flip camera, a $10 MetroCard, and a tote bag. Supposed retail value, $180. Cost to you (for various vacation dates at New York's Affinia 50, the only hotel I priced), at least $130 plus tax (for a two-day stay, the shortest for which the offer is valid), and as much as several hundred.
[Added: It occurs to me that if you're on an expense account, maybe it is a deal. Your company pays for the room, and you get the camera. Someone with more expense account experience can clue me in.]
I believe this is called marketing, and Affinia is doing it honestly. Some promo codes are non-deals, some are deals. (There are some good ones at RetailMeNot.) I've stayed at the Affinia 50 twice, and it was just great both times. Their other properties are probably fine, too, and maybe the Flip promo really is a deal at their other locations. One thing I can guarantee is that you won't get the panoranoramic view pictured, but you might pack a mirror so you can pretend.
Finally, in the interest of full disclosure, "Affinia promo code" has long been the #1 search term sending visitors to my web site, and I'm happy to be posting something new and relevant. But even if that's what brought you here, do stay and visit for a while.