1 May 2010 18:37
"That was our playhouse – that was its name," Gerry said, as if there could be any other reason for the RUTGER above the door. I never asked why it was named Rutger, or if I did, she never told me, or I forgot.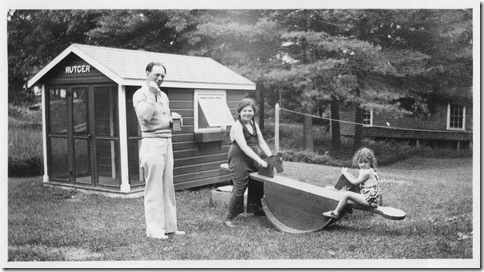 The carpenters at the San built Rutger. The carpenters built a lot of things for Mom and Gerry: Rutger, the seesaw, the elephant table, a bookcase. Probably more, though nothing else was passed down or photographed. The carpenters were fond of Mom and Gerry.
Four hundred or so people lived at the San in the early 1930s. Almost half lived in dormitories and worked there – carpenters, bakers, nurses, engineers, attendants, waiters, horse keepers, farmers, chauffeurs, teachers, butchers, clerks, pharmacists, physicians, and a dentist. One of the chauffeurs drove Mom to school in Middleborough. My grandfather Manny was the dentist. Manny, Nana, Mom, and Gerry were one of only a few families at the San, and they lived in one of the few houses on the grounds.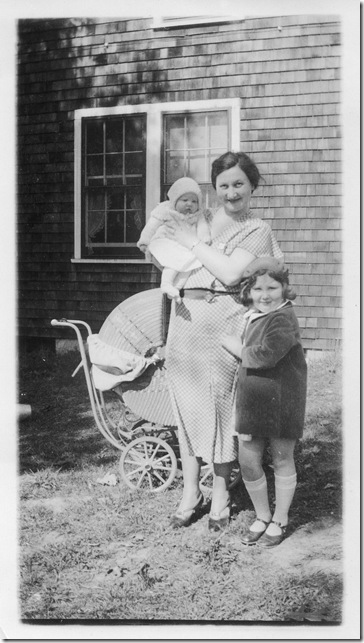 Mom said she and Gerry could see the morgue from their bedroom window. Gerry said they couldn't. Or maybe it was the other way around. Either way, the morgue was near the house, and no one shooed the girls out when they wandered in. Not there or anywhere else – the operating theater, the lab, the barn.
They might have been shooed off the playground if they'd tried to play on the swings when other kids wanted to, but Mom and Gerry knew the rules, and they always had Rutger and the seesaw. The playground was for the inmates.
One Response to "RUTGER"
Steve Kass » Missing Money of the Rich and Famous Says:
April 18th, 2011 at 11:13 pm

[…] My maternal grandfather died in 1973. Thirty-eight years later, which is to say last week, I discovered some of Manny's property, escheated to the Massachusetts State Treasurer and awaiting claim by him or his heirs. […]
Leave a Reply