In the wake of today's incident in Times Square, the second in barely as many days, Joe Lieberman, the Idiot from Connecticut, is expected to introduce idiotic revisions to the Enemy Belligerent, Interrogation, Detention, and Prosecution Act of 2010 (EBIDPA). The revised legislation will define water bottles, books, and several other items as "suspicious" and impose severe penalties on persons leaving them unattended in public places. The Department of Homeland Security will be charged with maintaining the secrecy of the list of suspicious items, revising it as needed. In an attempt to prevent EBIDPA from becoming politicized, Lieberman is adding language to restrict what information can be provided about the Act and its enforcement to Democratic and Republican members of Congress.
Anyone suspected of violating the new provisions would be classified as an enemy belligerent and immediately lose his or her U.S. citizenship. In addition, arresting officers would be prohibited from mirandizing suspected violators. Local and state governments will have until June 1, 2010 to enter fingerprints, iris scans, and DNA samples from all U.S. residents into a national database.
Rudolph Giuliani, former mayor of New York, and several world leaders, including Kim Jong-Il and Robert Mugabe, praised Lieberman for his patriotism.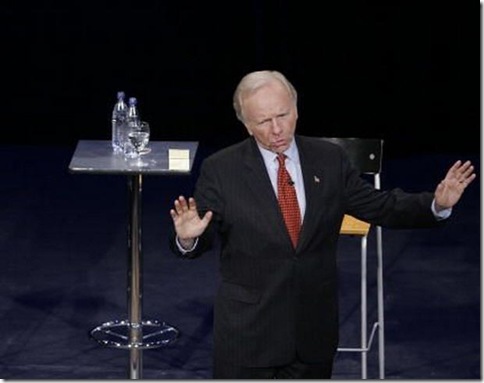 Idiot with bottled water (2006 photo).